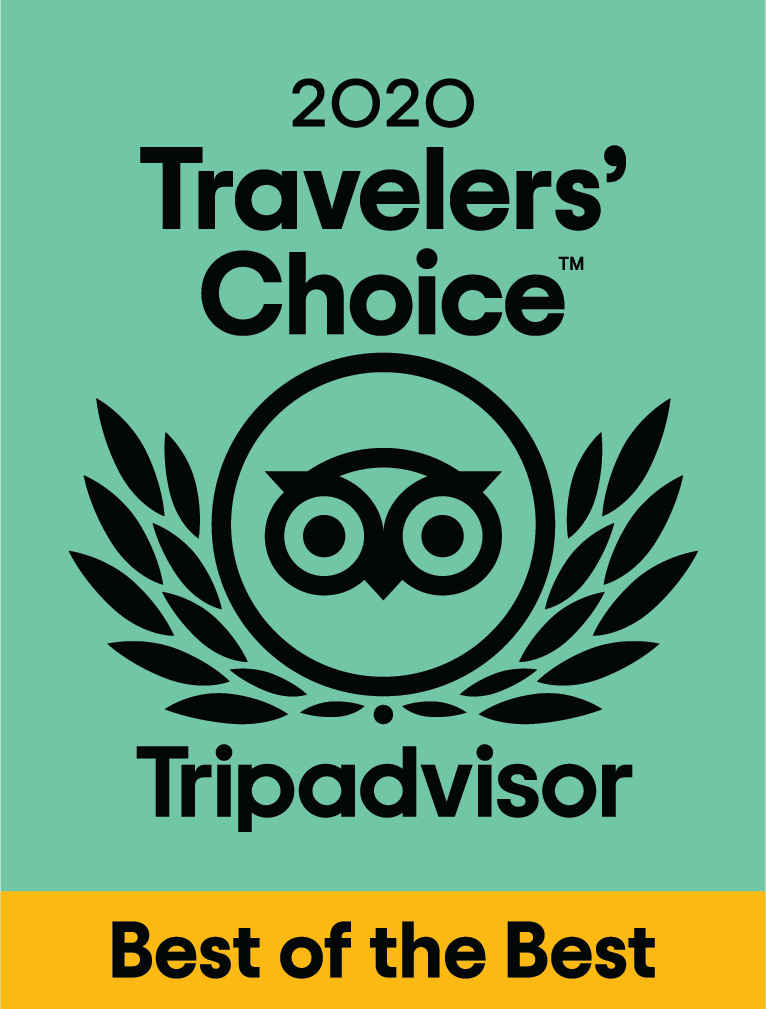 TripAdvisor's Traveler's Choice Award 2020
Trip Advisor gives out a Traveler's Choice Award each year for hotels that are rated in the top 10% by traveler's.  We did not pay promotional consideration for this award, this is 100% voted on by travelers.  You.  And we want to say "Thank You"!  According to TripAdvisor, "Tripadvisor gives a Travelers' Choice award to accommodations, attractions and restaurants that consistently earn great reviews from travelers and are ranked within the top 10% of properties on Tripadvisor."
One of my favorite parts of the job is reading through reviews and hearing our guests tell us how much they enjoyed their stay.  I share these with our entire team.  I know they read them.  When people say positive things, you can see their pride in their smiles.  When people say mean things, it hurts.  Luckily we get a lot of kind words and I would like to share a few with you.
"We enjoyed our stay at Plum Point Lodge. Our room was clean, comfortable and very nice with a nice view of the Lake. The bed was very comfortable. Even though the temperature was a bit low for this time of year we still enjoyed sitting by the lake with the wind blowing producing white capped waves. Being from N.Y. we knew how to deal with the unpredictable weather! The 1st night we ate at the Salpata. I wasn't sure what I was getting when I ordered the Salpata salad but it was absolutely delicious. It may have been the best salad I ever had. We both had the steak and it was superb!!! We ended with the plum-apple tart and that was also wonderful. What a terrific meal we had! The staff was very nice and they made us feel welcome." - Review from Connie, celebrating their 45th wedding anniversary
"Plum Point Lodge is in a fabulous spot because it sits at lake level bordering the shore of Lake Seneca with an unobstructed view, unlike so many inns and motels in the Finger Lakes that sit high above the lakes. My husband and I have been going there for over twenty years. Until recently it was called Rainbow Cove Motel, but under new ownership it has been renovated and modernized. We were delighted with the tasteful, charming decor of our room, our friends' room, and the lodge in general. The main building has been expanded to include a small deck and a patio area on the lawn, both overlooking the lake. The lawn is perfect for croquet, etc. The road is quiet and flat, making it easy to walk along the lake. Sunrises and moonlit evenings are beautiful there, and over the years we have seen many rainbows. The food is very good, including the best tomato bisque I have had in my life. Everyone on the staff was helpful, cordial, and friendly." - Review from Faith
"First time visiting the region and absolutely loved our stay at PPL. Lovely, lakefront property that is pet and family friendly. Although the room was pretty small for a family of four and one large dog it was newly renovated, clean and comfortable. The staff was very friendly and accommodating. We really enjoyed the many quaint seating areas for spectacular lake views and especially enjoyed the fire pit in the evenings. Another added bonus was the kayak, paddle board and canoe rentals from Reagan's which brought rentals right to us at the boat ramp at PPL. What awesome service! Cannot wait to return! Thanks to PPL for a wonderful stay and Reagan's for the awesome kayaks." Review from Arlington, Virginia guest
"We stayed for 1 night on a Sunday in July. We brought our boat and having a state boat launch less than a mile away was very convenient. The grounds are very pretty, with several places to sit on the lawn and along the waterfront. There is also a fire pit on the waterfront.  We did not use the pool, but seems like a nice added benefit. There are 6 yurts behind the pool area, with their own fire pit.  The motel rooms are nicely updated, clean, and the bed was super comfortable. We were on the second floor with a balcony with 2 chairs and a small table.  The restaurant on site, Sapalta, was great. Atmosphere is lovely, food was delicious!  Every staff member was excellent. We had breakfast there the next day and this was wonderful as well.  We will definitely return to a Plum Point Lodge!" - Review from Kathleen with over 1,000 reviews!
If you would like to write a review on TripAdvisor, we would love to hear about your stay!  Our profile on TripAdvisor has over 200 reviews with an average rating of 4.4.  If you have specific issues you would like to discuss, you can reach me directly at jason@plumpointlodgeflx.com.