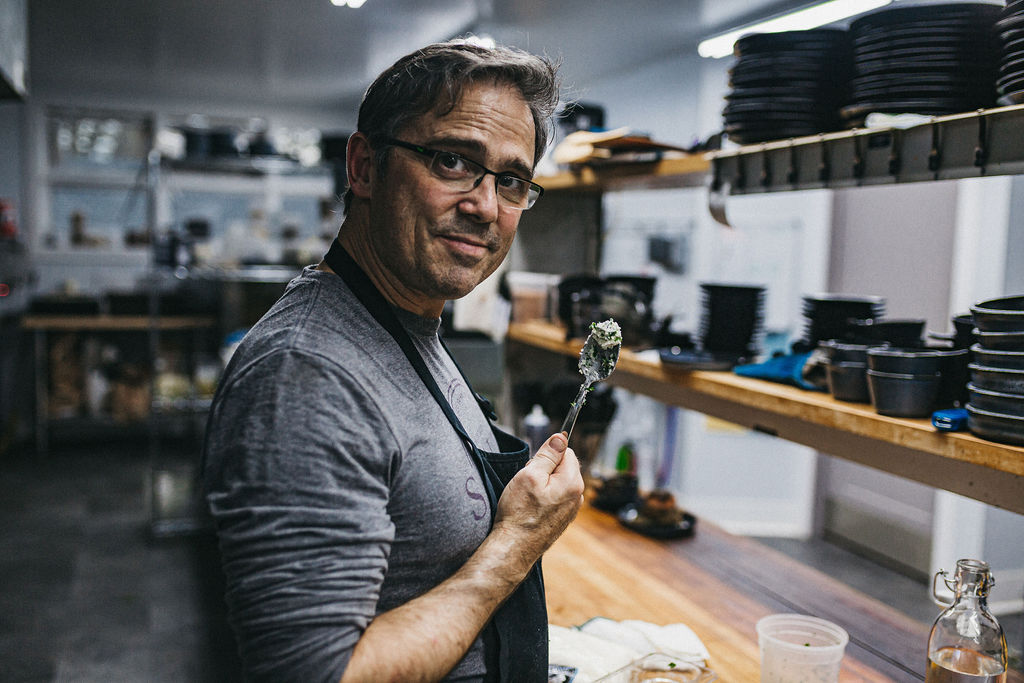 Chef Aiming To Be "Plum" Perfect
The grape has been king in the Finger Lakes for some decades now. But a group of investors and one of the area's most creative chefs are planning to give another traditional Finger Lakes fruit a new showcase. The investors renovating what was known for more than 50 years as the Rainbow Cove Motel on Seneca Lake's west side announced this week they are naming the new restaurant in their newly renovated and renamed Plum Point Lodge on Seneca after the neighborhood's signature fruit. "Sapalta,'' a unique plum variety grown in this region, will be Chef Brud Holland's new lakeside venue and the plum will be more than just a name. "It will play a central role in our cuisine,'' said Holland, who put Fox Run Winery's food service on the Finger Lakes culinary map and plans to do the same for this new lodge.
For months now, Holland has been developing signature "plum" accents for the restaurant. Among them:
Plum jam
Plum sparkling rose
Plum vodka
Plum brandy
Apple plum tart with Miranda blue cheese
Cocktails featuring the plum
"We will be offering a wide variety of food, from casual 'pizza and pint' nights to more classic fine dining menus throughout the week,'' Holland said. "All of it will be as locally sourced as possible and Finger Lakes wines will dominate our wine list. But the plum will be everywhere.'' Including in the shade of the soon-to-be repainted hotel that has undergone complete, room-by-room renovations this winter, said innkeeper Chad Kayser. Sapalta plum trees will be added to the hotel landscape this spring. Crews are racing to open new, fully renovated kitchen, dining and special event facilities as well as putting final touches on rooms that are new from the studs out. Though the restaurant will be named for the plum, Dave Bunnell, the principal owner leading the renovation group, said the new lodge's mission will be heavily invested in the grape.
A new wine shop featuring the Finger Lakes' best wine, new lodge-launched luxury wine tours and dinner menus featuring New York wines will make it clear this new hotel's mission is to be ground-zero for visitors seeking a Finger Lakes wine experience. "It is not our intentions to compete with the wineries,'' Bunnell said. "We want to be a launching pad for great wine experiences at the many great Finger Lakes wineries around our lakes. Some of the best are within miles of our new rooms.''
Chauffeured wine tours arranged by Stephanie Mira de Orduna, one of the region's most respected wine experts, will launch Thursday through Sunday from Plum Point with the resort's new luxury van available for special charters throughout the week. Special events managed by Natalie Travis will give a new lake venue for weddings, rehearsal dinners, corporate and family occasions.
Sapalta will serve breakfast daily and offer gourmet boxed lunches to accompany wine tours. Holland's dinner service will be served Wednesday through Sunday nights with a bar menu on Mondays and Tuesdays. Every Tuesday will feature a special homemade pizza and beer menu. Sunday will feature special farm-to-table menus. Plum Point Lodge officially opens on Mother's Day weekend in May. Its newly renovated rooms and its six new yurts will remain open through October with some special events reaching into the holidays.